Shamanic singing sessions via zoom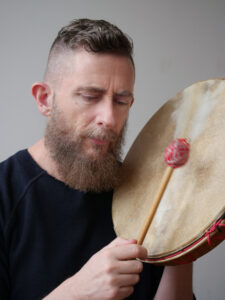 The response to the corona epidemic has brought many restrictions and limitations, and it has not been possible to study and practice in the groups since March 2020. Many people told me that they miss the singing. In a zoom meeting I can share my singing live from my home to yours, so you can listen and do your own practice.
Singing has always been an important part of my work, it supports shamanic trance journeys as well as systemic rituals. My singing style has gradually developed over the years and was influenced by teachers from various spiritual backgrounds. I do not use songs or melodies from specific cultures, I learned the melodies I use in my dreams while I was asleep or I improvise them on the spot. I rarely use words. People have often told me that they experience my singing as a transformative element in my work. The melodies have repetitive themes but they are sung with many small improvised variations. This creates a light trance that takes you to deep inner places while you keep some clarity as well. This state is helpful for many spiritual practices.
In the webshop you can book entry to a session in which I sing for all those who want to listen. Each week I offer one session, alternately on Sunday at 16.00 and Thursday at 20.30. After you have paid you will receive a confirmation mail that includes a link to the zoom session. At the right day and time, you use the link to get access to the meeting. I will say an opening prayer to help the listeners connect to their own focus, then sing for about 30 minutes. To conclude the session I will offer a closing prayer and sing a few minutes more to help you conclude the inner work. There will be no teaching, no ritual, no instruction: you yourself determine what you will do while I sing. Maybe you want to do a shamanic journey, maybe you want to do some creative writing or drawing. Maybe you want to meditate, dance or do another movement practice. Maybe you want to do a ritual, maybe you want to sing with me, maybe you want to sleep. It is up to you how to use the support of the singing. 
Support team
After the session, you may wish to get feedback about the experience you just had, have some questions you would like to get answered or need some other kind of support. There is the possibility to contact a member of the support team for a short or longer session. The people of the support team have spent many years following my work and each one of them has worked as my assistant in training groups. They will be available for sessions of 15, 30 or 60 minutes (or longer sessions if needed). Should you want to continue sessions with them to learn more about shamanic trance work or systemic ritual, they are available for this as well. You can contact the members of the support team directly to check their availability, prices and booking of a session.
Aleksandra Shymina
English, Russian
www.asconstellations.co.uk
asconstellations@gmail.com
I am a London based systemic ritual and family constellations practitioner, running regular workshops and individual sessions online now. My special interest and passion is with ancestral work and its resourcefulness for everyday life. I am also trained in core shamanism and teach shamanic journeying. I've worked with Daan since 2015, receiving the facilitator's training, attending his systemic and shamanic workshops around the world and assisting on some of them. This approach has become a back bone of my systemic and creative work and personal practice.
Céline Baron
French, German, English
www.celinebaron.com
post@celinebaron.com
Contemporary shamanic practices (inspired by the traditions) and Systemic Ritual constitute the core of my work. The wheel of the Four Directions, the cycles they embody and also the technique of the trance represent the main tools to find a meaning to experiences and answers to questions. For ten years, I have been co-organizing Daan's trainings in Berlin and Paris. I lead shamanic and systemic groups, I offer individual consulting and personalized teaching sessions in these fields as well.
Sabine Obermayr-Adamzek
English, German, Dutch, Swiss-German
www.desystemischeblik.nl
info@desystemischeblik.nl
Restoring harmony and balance in personal, professional and corporate life, through shamanic and systemic work is my core business. For more than 15 years (1995-2010) I had the pleasure to assist, co-teach, travel and learn from Daan. I am a certified systemic facilitator, (2003, Bert Hellinger Institute, The Netherlands). I facilitate individual and group work on the topics of contemporary Shamanism, reconnecting with the Soul, (transgenerational) trauma and systemic constellations online and live in my practice in Dieren, the Netherlands.
About Zoom and technical information
(from our technical crew)
For the singing sessions we use video platform Zoom. At the beginning of the lockdown, as Zoom grew exponentially, a number of concerns were raised about their security and privacy. Since then, the company has installed pass words, virtual waiting rooms and end-to-end encryption, and continues to release updates to improve security. Since there is no sharing of private information during the singing sessions, we trust that Zoom is a platform safe enough for our purposes.
If you are not using Zoom yet, download it beforehand from here:
This is the only place where you can sign up. On the web you can find other sites pretending to be Zoom in the hope that you will install their malware, so please use only this link. There is a free version and there are some paid versions. As a guest, choose the free version. After installing Zoom on your computer, you may want to try out Zoom with a friend beforehand to familiarize yourself with the interface.
At the beginning of the session, you will be able to see the other participants, and will yourself be seen if you choose to have your camera on. Once Daan starts singing, he will be spotlighted and you will no longer be able to see each other or to be seen. Besides this, you can turn your camera off. This will ensure your privacy and also might make your reception better, since you will use less bandwidth.
Your sound will automatically be muted throughout the whole session.
The text-chat function will be turned off, so you will not be able to chat with each other or with Daan during the session. You can text-chat with the host though (which is our technician, not Daan) during the session, in case you have questions or technical issues.
Should you need psychological or spiritual support after the sessions because of the experience you had, or if you want some feedback, you can find the contact information of the support team if you scroll up on this page.
For the best experience of the singing, it is helpful to get good reception and good sound quality on Zoom. There are several things you can do to improve Zoom quality.
– Turning off your camera function so that you are not visible during the session, might improve your sound quality, since you are using less bandwidth. If you're only listening, and not watching the singing, you can turn off that video function too.
– Put your mobile phone on 'airplane mode', because this small device also uses quite some bandwidth.
– Turn off any programs or apps on your computer that you don't need during the session.
– Move your computer closer to the Wi-Fi router. The further from the router you are, the weaker the Wi-Fi signal will be.
– If possible, move the router away from behind large objects, from thick walls and air conditioning units. All can interfere with Wi-Fi signal strength.
– If your signal is weak, it might be worth getting a signal booster. These are small and cheap devices that boost a weak signal and improve reception.
– Using a cable from your router to your computer (instead of using Wi-Fi) might improve your Zoom experience.
– If possible, ask others in your household to minimize internet use during the session. Mobile phones, online games, Netflix, Hulu, Apple TV, etc. all use bandwidth, which could impact your Zoom experience.
For questions about technical or logistical challenges write to: singing@daanvankampenhout.de